Details

Hits: 27741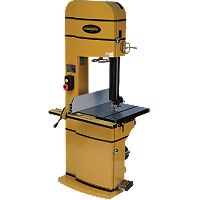 Band saws are one of the safer woodworking tools and because they are so versatile, they are also one of the most popular tools. A band saw can make cross cuts as well as ripping cuts and of course all sorts of round and semi round cuts. And one of the most popular uses of band saws is in cutting thin strips of wood or veneers, that are used to enhance many woodworking projects.
But band saws have one inherent problem, and that problem is that most of them will tend to "drift" when they are cutting through wood. What this means is that if you are ripping a piece of wood, and following a marked line, there is a very good chance your band saw will develop a mind of it's own and start cutting off that line. This drift is caused by a variety of elements like the grain of the wood, they type band saw blade you are using (and how sharp it is), the tension on the blade and even whether or not the blade is running true on the 2 band saw wheels. It is often possible to reduce drift but in most cases you have to learn which way your band saw will drift and take that into account when you are cutting wood.
Another inherent feature of all band saws, particularly when they are ripping wood, is that at the beginning of the cut the saw will cut quickly but as it is cutting through the wood the speed at which the wood is cut is noticeably slowed. Again this is typical of almost every band saw, small or large, so if you find this happening with your saw ... it is not "your saw" it is all saws that have this quirk.
Setting up a band saw is an important step in order to get the best cuts and help preserve the life of your blades and your saw. It is important that power to the saw be turned off before any setup is attempted. The first step is to set the BLADE TENSION, which, on most 2 wheel band saws is done by RAISING the top wheel with the appropriate adjustment knob or wheel on your band saw ....