By Guest Columnist and Woodworker - Paul Dumond

Have you ever been on a guided tour of some mansion or historic building, where there are more tiny end tables and coffee tables per room than tiles on the floor?

I'm not sure whether it's a product of fashion altering with the times, or perhaps just a way for curators to showcase every piece of furniture their estate's famous dead, "once-upon-an-owner" ever owned, but either way, it makes for a serious tripping hazard.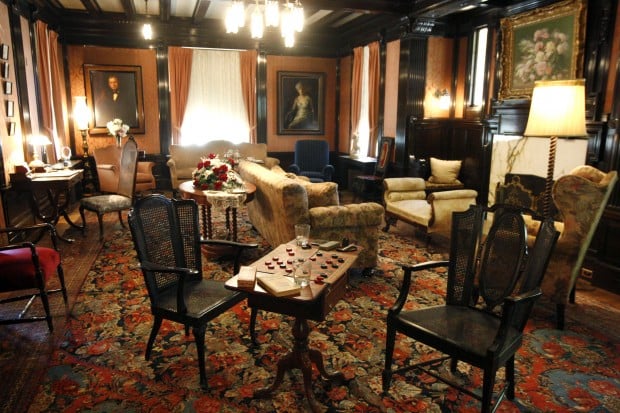 Leah Mills Image from the Sheridan Museum linked courtesy the Casper Star Tribune
No one can deny that some of these patrons of design had style whilst living and breathing, though ...


In many cases, if you were to strip any of these rooms of their mismatched, velvet upholstered jumble of shin-bangers, you'd have the centerpieces, and those are usually nothing shy of impressive. Mantlepieces, dining tables, china cabinets...these are the real business items of furnishing a home and if you avoid crowding them, they will do the talking. Add a chair or two, a bookcase, and (maybe) one coffee table, and voilá, your job is done.

The Mysterious History Of Slab Wood Furniture
It's kind of crazy that a quick Google search reveals so very little about the history of slab wood furniture in particular. George Nakashima's name surfaces immediately, but apparently, single slabs of hardwood just haven't dominated rooms in the way they do now, for all that long (or at least not that the internet is aware of).
One thing is certain: had the railroad and copper tycoons whose homes housed tables and hearths that could crush men beneath their weight, been offered single slabs of elm to pick from, every single mansion-museum you're likely to visit would boast a slew of them—and not one tablecloth would hide their splendor.
Another possibility is that the history of slab wood furniture is better known and goes farther back than the first pages of Google would suggest. Were this the case, it would only be because of how increasingly popular and exciting slab furniture is to today's generations.
Without a doubt, this has more than a little to do with environmentalism and its alignment with recycling and repurposing trees for our slabs, instead of finding newer, living trees for every executive desk commissioned.
It's a win-win situation for everyone involved, actually; the trees are dead and need cleaned up, so we take them, and in some cases, that means they don't have to spend as much time in the shop curing before being made into a live edge wood slab table or custom slab wood desk. At the end of the day, your furniture and the furniture maker's art are green as can be, even if they're not sprouting leaves anymore.



Times They Are A Changin'
One day, for reasons as of yet unpredictable, we may once again seek to cram as many items that stand on four legs into our parlors as we can manage. Maybe our eco-friendliness will require us to use smaller slabs, too, and for every behemoth made, we'll make twelve or so little brothers so that no one sporting a big slab of wood can be accused of ignoring the fact that an ever so large number of unsustainable logging operations produced the rest of the furniture the world over.
Maybe we'll just prefer it that way. But slabs are in style, and I mean in style. They're here for good reason, and they're here to stay. They're pushing the rest of the clutter to the side, and yelling loud and clear that they don't need any help to satisfy their chosen stage's thirst for occupation. Just remember: as long as there are trees falling in cities or forests and we can find them, we have the makings of beautiful fine furniture, practically designed and half built for us.
Nature is handing us these slabs, and to refuse them in favor of an Ikea table, bed, or any other item would be insane.

.... By Paul Dumond